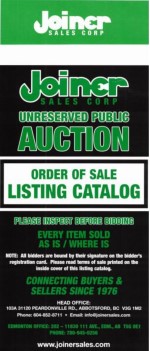 Pictorial Brochure Lot listing to come
CHOQUER & SONS MACHINE WELDING LTD. - CLOSE-OUT ONLINE AUCTION
Welding, Machining, Steel Distribution, Marine Repairs, Dock Space, Haul Out Facilities
ON-LINE WEBCAST AUCTION!
Complete Close-out due to Sale of Property
DATE & TIME
Tues., Apr. 27, 2021 - First lot starts closing @ 10:00 am
PREVIEW DATE & TIME
Mon., Apr. 26, 2021 - 9:00 am - 5:00 pm
ADDRESS
5977A Sechelt Inlet Rd, Sechelt, BC V0N 3A3


BID LIVE ON-LINE WITH BIDSPOTTER
SEE COMPLETE DESCRIPTIONS AND PHOTOS ON BIDSPOTTER AFTER MAR. 15TH!
COVID 19: Joiner Sales Corp follows and implements all government guidelines required in each jurisdiction of the sales that we conduct. BC mandates all persons must wear masks in public places of business and applies to all employees, customers, visitors, delivery personnel and contractors. In addition, all persons must maintain a 2 meter physical distancing when on premises. Protocols will also be posted, required and sanitising chemicals will be available at the sale site to ensure convenience and compliance for the safety of both you our customer and our employees. Your safety and ours is paramount.
Terms and Conditions
An 18% Buyer's Premium applies on all purchases. On the day following the auction all purchases must be paid in full by CASH, DEBIT, CERTIFIED CHEQUE, BANK WIRE TRANSFER (Credit cards [Visa, M/C] accepted on purchases not exceeding $2000 on entire purchase).
Applicable buyers premium and 5% GST & 7% PST (BC mfrs. exempt PST with PST#) will be added to the bid price on all items.
REMOVAL TIMES APR. 28th to MAY 3, 2021. – 8am to 5pm daily except Sunday - buyers please contact Kevin Joiner @ 604-308-8040 for further information and to advise of your timing during this time period. For removal beyond May 3rd, please contact Allan Choquer @ 604-885-9244 / choquerandsons@choquer.ca for sheduling and final removal date.
RIGGING & REMOVAL SERVICE ASSISTANCE: MIKE LLOYD @ 604-866-9170 kamatt@shaw.ca
INCLUDED IN THIS AUCTION:
Hyd. Promecam 130T X 10' press brake; Hyd. Pearson 8' X 1/4" shear; 3 Lathes; 2 Radial arm drills; Baxter horiz. band saw w/ rollcases; 2 Milling machines; Canteck SK-300 50HP gang rip saw: 2 Forklifts; Kubota Utility vehicle; Mobile platform manlift; Trailers incl large boat type; Mini Excavator; Hyd. shop press; Welders; 2 Compressors; 3 approx. 35' boat hulls (1 alum); Floating docks; Steel inventory - plate & lineal (SS, Alum., mild); Power & hand tools; Machine tooling; 535 threader; Retail stock; Sewing machines; Bearings; 2 Pressure washers; Paint guns; Belt sander; Etc., Etc.

AUCTION CONTENT LIST OF ITEMS BELOW

-Pearson Hydraulic Shear, Model 8'0" X .250, ¼" capacity x 8 ft., 600 volt
-Promecam Hydraulic Press Brake, Model RG-103, 130 ton x 10 ft. bed
-Frejoth radial arm drill, model RD900, No. 3 taper, 4 ft. arm, 10 running hours
-Sintex radial arm drill, model FR35, No. 4 taper, 4'6" arm,
-Sofia machine lathe, 24" swing x 12 ft. bed, w/ 1 steady rest, 1 follow rest, 4 jaw 20"chuck, (2 )12 inch 3 jaw chuck, face plate
-Harrison machine lathe, 14" swing x 5 ft. bed, 440 volt
-Mori Seiki turret lathe, model 5D, 24" swing x 5 ft. bed, 6 post
-Hitachi Seike horizontal & vertical milling machine, 12" x 54" table, No. 40 taper
-Stanko milling machine, 16" x 60" table, 50 taper
-Baxter metal cutting bandsaw, 16"
-Hydraulic shop press, 3 cylinder, middle 170 ton, one end 90 ton & other end 35 ton
-Cantek Gang saw, model 5K-300, 50 hp, 575 volt, S/N 030713
-Progress pedestal drill, model 5E, No. 3 taper
-Pine tubing bender
-Nissan 9000 forklift, 9,000 lb. capacity, positioning forks, 2 stage mast, propane, 6 cylinder
-Nissan forklift, 6,000 lb. capacity, 3 stage mast
-Acme forklift, 10 ton capacity, diesel
-Komatsu mini excavator, ¼ yard bucket, w/ side shift boom
-Allis Chambers wheel loader/ forklift, w/ 3 yard bucket
-2006 GMC 3500 FLATDECK SERVICE TRUCK P/W 6.6L DURAMAX DIESEL, ALLISON TRANS, 4X4, 273,168KM, S/N 1GDJK34D66E204113
-Kubota RTV900 Utility vehicle
-Scissor lift man lift, approx.. 5 ft. x 10 ft platform
-Miller Millermatic 252 welder
-Miller Syncrowave 250 welder
-Miller Deltaweld 451 welder
-Miller Syncrowave 350 LX welder,
-Alca Seaborne 38 ft. boar, 2- 350 V8's, Volvo legs
-43 ft Aluminum boat, 2 diesel motors, shaft drive
-Arriva 26 ft. boat w/ 350 chev motor (0 Hours), Bravo 2 leg dual props
-20 ft. Aluminum Custom fishing boat w/ 150 mercury Optimax out board motor, 582 hours & 9.9 hp Yamaha Kicker motor
-Bayliner 18 ft. bow rider boat w/ 90 hp Mercury outboard motor w/ trailer
-11 ft. Aluminum Custom Pontoon boat w/ Yamaha 25 hp outboard motor, 25 hours
-Livingston 8 ft. life boat
-Fiberglass life boat
-Mariner 50 hp outboard motor, 25 hours
-Hydro Lift 12,000 lb. capacity on daul pontoons
-Travel Lift boat trailer, 60 ft boat capacity, 10 wheel, hydraulic cylinder lift, 12" wide slings w/ 80,000 cap/each sling.
-Lot of assorted floating docks, up to 40 ft. approx.
-Pallet of cedar lattice 12 ft. x 8 ft. ETC., ETC.
Misc. – Power & hand tools; 535 threader, Oxy-acet units; Track cutter; nylon slings; Steel stg. shed, 2 compressors, Greenhouse shed 12' x 14'; Greenhouse SS plant bins; Greenhouse shade cloth; Gazebo structure; Lg. SS 2-door fridge etc;
Steel – Plate, HSS, flat bar, angle, pipe, 3 pcs. Hede rail 39', 71#/ft., 6", (1) I Beam 63' 24" x 9"

New Retail Stock – Welding supplies, Marine supplies – zincs, fittings, lights, paint, attachments etc., Nuts & bolts, fasteners etc.