PICTORIAL BROCHURE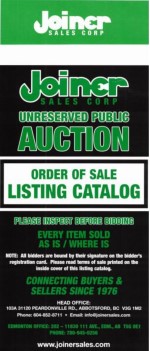 LOT BY LOT LISTING
ONLINE AUCTION - Well maintained tools & equip. from Seabird Rentals Ltd., Gibsons, BC (Inventory moved to Abbotsford sale site)
(COMPANY SOLD – ALL EQUIPMENT NOT REQUIRED BY NEW OWNER IN THIS SALE)
PLUS! Surplus fabricating equipment from 2 major steel fabricators

DATE: Thurs., June 2nd, 2022 @ 9am
PLACE: #2 - 30455 Progressive Way, Abbotsford, BC
(Burning table, Plate rolls & DoALL saw @ 2141 Queen Street, Abbotsford, BC,
IR 50hp screw compressor, Atlas Copco air dryer @ 19469 92nd Avenue, Surrey, BC)
Preview: Wed., June 1st, 2022 9am to 4pm
COVID 19: Joiner Sales Corp follows and implements all government guidelines required in each jurisdiction of the sales that we conduct.

Terms and Conditions
An 18% Buyer's Premium applies on all purchases. On the day following the auction all purchases must be paid in full by CASH, DEBIT, CERTIFIED CHEQUE, BANK WIRE TRANSFER (Credit cards [Visa, M/C] accepted on purchases not exceeding $2000 on entire purchase).
Applicable buyers premium and 5% GST & 7% PST (BC mfrs. exempt PST with PST#) will be added to the bid price on all items unless we are provided a commercial carrier bill of lading prior to removal from out of province buyers.
REMOVAL:
Final removal must be by 5pm, Sun., June 5th (Absolutely no exceptions)
Removal times following the sale: Daily from Fri., June 3rd to Sun., June 5th 2022 8am to 5pm or as needed. Buyers please contact Kevin Joiner @ 604-308-8040 for further information and to advise of your timing during this time period. Final removal to be by Sun., June 5th, 2022 (No Exceptions)

PHOTOS COMING SOON!
SALE CONTENTS (Subject to additions and deletions)
BURNING TABLES:
2006 Messer Mod EM125 EDGEMATE CNC plasma/gas burning table, 140" x 23"1" table size, s/n EM125-06-4919, Burny 1400 Plus control, Hypertherm Powermax 125 plasma unit (Machine could be subject to late possession – TBA closer to sale time);
2010 Fastcut CNC Fabricator 6 burning table, light cut to 1 ½" plate, 6' x 12' table size, 115v/1ph, s/n G6-612-1218-36, exhaust fan, Victor Thermal Dynamics Ultra-Cut 200XT near new plasma unit (approx. 50 hrs.)
PLATE ROLLS:
2010 Model W11- 10x4000, 13.148' wide x 3"8 cap., 600v/3ph, s/n 1002008 (used less than 100 hours)
BAND SAW:
DoALL TF-14HA, 575v/3ph, hyd. drive motor, s/n 365-78126
ROLL-OFF DECK TRUCK:
2007 Peterbilt tri-axle, Cat C15, 475 hp diesel, Approx. 600K km, new rubber all around, VIN 1NPFXBEX77N669377, 29' deck, Ramsey winch (Truck to be sold high bid subject to owner approval)
MINI EXCAVATORS:
2021 Doosan DX35, 160 hrs., 2 buckets, hyd. Thumb, s/n DBMB4WVJHM0011265;
CAT 303C CR , 2967 hrs., bucket, hyd. Thumb, s/n BXT01936
SKID STEER LOADER:
CAT 226B, 1393 hrs., forks, s/n CAT0226BKMJH08783
FORKLIFTS:
RAYMOND Mod 425-C30TT 3000# cap. 36v electric, 234" lift, SS, cushion rubber (no charger)
Nissan 30, 3000# cap., 187" lift, propane, cushion rubber, 5549 hrs.
2003 Hyster H50 5000# cap., propane, 3646 hrs., 48" forks, 128' lift
LIGHT TOWER:
2014 Wacker Neuson LTW20, Isuzu diesel, wide body vertical mast, s/n EXFLW0519BN004806, 979 hrs., 20KW
TRAILERS:
ATV flatdeck, 13' OA, 7' haul deck, 2' alum equip locking box area, S/A ST205/75D14 rubber
100's of lots of rental equipment etc.
SCISSOR LIFTS – (4) Skyjack SJIII321 (2 in need of repair)
COMPRESSORS: (4) Ingersol port. 185cfm diesel; small portables,
2005 Ingersol Rand IREP50-PG-125 WET/DRY SCREW COMPRESSORS, 50HP, 460V/3PH, 24,657 HRS., W/ BUILT-IN DRYER, OPERATING NOW - sold offsite at 19469 92nd Avenue, Surrey, BC - Contact Mike to view under power @ 604-866-9170
2005 Atlas Copco air dryer Type FD850, s/n 103813, was working when removed from service - sold offsite at 19469 92nd Avenue, Surrey, BC - Contact Mike to view @ 604-866-9170
IR shop type 10 hp/208v/3ph
IR dryer 115v/1ph
AIR EQUIP:
Rock drills & breakers, floor nailers, impact wrenches, consumable drills, rod etc.
COMPACTERS:
Approx. 29 Wacker, MBW, Dynapac Bartel etc.
CONCRETE SAWS:
Stihl, MK – c/off, brick, slab
CONCRETE EQUIPMENT:
Mixers, vibrators, power wheelbarrow, manual rebar benders, hand tools
ELECTRIC TOOLS:
Drills, impact guns, mag base drills, etc.
FANS:
Carpet, Sureflame, Axial, ducting
FLOOR/SANDING:
(3) 16" circular, pads, (4) Clarke Edgers, discs, (5) sq. buff sanders, pads, grit, kickers, lino rolls, etc.
GENERATORS;
Miller gas welder/genset, 6000w; (2) Wacker gas 5600w gensets
HAMMER DRILLS/BITS:
Approx. (25) Hilti, Makita, Husqvarna
HEATERS/DEHUMIDIFIERS:
Space heaters, tent heaters, ozone gens., ducting
LAWN & GARDEN:
Hedge trimmers, rototillers, lawn rollers, trencher, augers, log splitter, Stihl leaf blowers, Stihl backpack blower
SCAFFOLDING:
Frames, cross braces, alum. Decks, alum. Tubing, screw jacks, arrest kits, shores, casters, pig tails etc.
LADDERS:
Alum. Ext. & step, orchard, alum.
PLUS - MORE EQUIPMENT:
Saws/tile saws,
Lighting,
Lifting & moving,
Plumbing,
Painting,
Pressure washers,
Propane bottles,
Pump/hose, Vacuums,
Survey equip.,
Welding,
General tools etc.
Road warning barricades (A-frame stands & cross beams)