PICTORIAL BROCHURE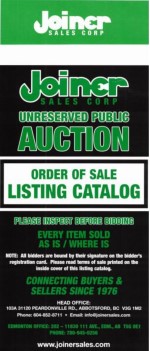 LOT BY LOT LISTING
Online Auction - Plastics Manufacturing Division Closure - Royal Plastics
(Ongoing production now outsourced)
TRAY, CUP & LID THERMOFORMERS, EXTRUDER LINE, COMPRESSORS,
CHILLERS & GRANULATORS
DATE: Wed., May 25th, 2022
PLACE: #2 - 13015 84th Ave., Surrey, BC Canada
Preview: Tues., May 24th, 2022 9am to 4pm
COVID 19: Joiner Sales Corp follows and implements all government guidelines required in each jurisdiction of the sales that we conduct.
Terms and Conditions
An 18% Buyer's Premium applies on all purchases. On the day following the auction all purchases must be paid in full by CASH, DEBIT, CERTIFIED CHEQUE, BANK WIRE TRANSFER (Credit cards [Visa, M/C] accepted on purchases not exceeding $2000 on entire purchase).
Applicable buyers premium and 5% GST & 7% PST (BC mfrs. exempt PST with PST#) will be added to the bid price on all items unless we are provided a commercial carrier bill of lading prior to removal from out of province buyers.
REMOVAL:
Removal times following the sale: Daily except Sunday to May 31st, 2022 9am to 5pm or as needed. Buyers please contact Kevin Joiner @ 604-308-8040 for further information and to advise of your timing during this time period. Final removal to be by Tues., May 31st, 2022 (No Exceptions)

THERMOFORMERS
Please note that only certain machines are now being used to use up raw materials and that most other machines are now surrounded with inventory until approx. one week prior to sale. As such, many photos do not fully depict machines clearly. Closer to the sale, more photss will be posted with the greater manufacturing area being cleared of inventory and better photos of the equipment made available.
2012 Sinoplast Mod. WS660C Auto PLC control hydraulic (tray production at present), 660mm x 320mm forming area, 220v/3ph., 35 cycles/min., roll unwinder, scrap rewinder, belt o/f conveyor, net weight 8000 lbs, robot loading arm sold separate, approx. 75 spare heaters parts
2015 Sinoplast Mod. SPC 660C cup forming line - roll unwinder, thermoformer, Stacker Mod. SP550C, scrap rewinder, 440v/3ph., - rim curling machine Mod DH120JB, packing/count section Mod. HD40 220v/3ph
2015 Sinoplast Mod. APT470 tray/lid machine, 380v/3ph (1 of 2)
2015 Sinoplast Mod. APT470 tray/lid machine, 380v/3ph (2 of 2)
EXTRUDER LINE
2007 Extruder w/ 4" barrel, 380v/3ph., 980 r/min, 45KW, Mold temp controler 480V/3ph., (possibly sold separate), Hyd. screen changer, 36" max. sheet die, control panel, calendar sheel roll unit (3 - 36" rolls), scrap rewinder, outfeed roll system/width cut/rewinder, controls - 1 ton cap. SS mixer, 380v/3ph. (sold separate), (2) SS auger conveyor (sold separate)
GRANULATORS
Scrap sheet granulator, 40hp/3ph., inline type, 32" slot opening
Polymer Mod. 1120 SPL polygrider, 20hp/575v/3ph., approx. 11" x 20" feed, drawer discharge
Granulator (info to come)
CHILLERS
Large chiller (info to come)
AEC Mod. NXGA-7.5, 460v/3ph., 7.5hp compressor, 30F degree min. temp, 65F degree max. temp, s/n 98E0711
Budzar chiller
COMPRESSORS
Devair DSC-30 30hp screw (more info to come)
Hydrovane 30hp
Kaeser air dryer
Ultra-Air dryer
SUPPORT EQUIPMENT
SML SS mini mixer
Electrical boxes
Transformers
HD tech cable etc.