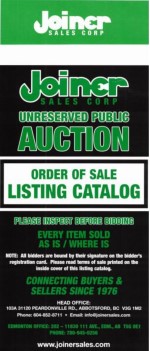 Pictorial Brochure Lot Listing to Come
REIDCO METAL INDUSTRIES LTD. - SURPLUS EQUIPMENT ONLINE AUCTION
DUE TO MOVE TO NEW PREMISES.
METAL FABRICATING EQUIPMENT
DATE: Wed., Apr. 21st, 2021
PLACE: 4290 BC-97, Kelowna, BC V1X 7S3 - ENTER OFF 555 ADAMS ROAD @ REAR OF BUILDING
Preview: Tues., Apr. 20th, 9am to 4pm
CLICK BELOW JOINER LOGO TO GO TO BIDSPOTTER


BID LIVE ON-LINE WITH BIDSPOTTER
CLICK EITHER ABOVE JoinerCONNECT LOGO TO REGISTER
SEE COMPLETE DESCRIPTIONS AND PHOTOS ON BIDSPOTTER
FOR SALE INFO: BLAKE JOINER @ 604-308-2727 / blake@joinersales.com
COVID 19: Joiner Sales Corp follows and implements all government guidelines required in each jurisdiction of the sales that we conduct. BC mandates all persons must wear masks in public places of business and applies to all employees, customers, visitors, delivery personnel and contractors. In addition, all persons must maintain a 2 meter physical distancing when on premises. Protocols will also be posted, required and sanitising chemicals will be available at the sale site to ensure convenience and compliance for the safety of both you our customer and our employees. Your safety and ours is paramount.
TERMS & CONDITIONS:
An 18% Buyer's Premium applies on all purchases. On the day following the auction all purchases must be paid in full by CASH, DEBIT, CERTIFIED CHEQUE, BANK WIRE TRANSFER (Credit cards [Visa, M/C] accepted on purchases not exceeding $2000 on entire purchase).
Applicable buyers premium and 5% GST & 7% PST (BC mfrs. exempt PST with PST#) will be added to the bid price on all items.
REMOVAL TIMES APR. 22nd to APR. 28th, 2021. – 8am to 5pm daily except Sunday - buyers please contact Kevin Joiner @ 604-308-8040 for further information and to advise of your timing. NOTE: REMOVAL PERIOD IS FIRM WITH NO EXTENTIONS - MAKE YOUR RIGGING/TRANSPORT ARRANGEMENTS PRIOR TO BIDDING!
RIGGERS
The company below is under contract for the entire move of Reidco equipment to their new premises. As such, they are in a position to offer auction buyers ready made service as needed. Buyers, however, are welcome to use their own qualified and insured riggers if desired.
OKANAGAN CRANE & RIGGING
CONTACT - GERHARD ECKER
250-212-9459 / okcrane@telus.net
PRELIMINARY CONTENTS OF AUCTION BELOW With more items coming:
NOTE: THE FOLLOWING 2 MACHINES ARE IN OPERATION UNTIL APRROX. MAY 15 (could be earlier), FOLLOWING WHICH TIME THE BUYER MAY REMOVE AND TAKE POSSESSION.
LASER CUTTER – 2008 Mazak Super Turbo X510 Champion, CO₂ Laser Mod YB-L130A 8M 1300W, 3050 mm x 1525 mm x 12mm workpiece cap., s/n 214825, 230/460/3ph, $14,000 recently spent to rebuild resonator.
MAINTENANCE HISTORY pdf.
CNC ROUTER - 2004 MultiCam 5000 5-307-R, W/ Ride-A-Long 8 pos. tool carousel, full vacuum table p/w 11kw (15HP) vacuum pump, Dust Collection System, 220v/60amp, NEW SPARE HEAD FOR ROUTER, s/n 5-307-R-03817
MAINTENANCE HISTORY pdf

LASER CUTTER – NEEDS REPAIR – 1994 Mazak Super Turbo -X48 Hi-Pro Supercharged, CO₂ Laser Mod YB-L200B 7M3 2000W, 2630mmX x 1270mmY x 100mmZ stroke, s/n 110915, 230/460/3ph

PRESS BRAKE – Accurpress 250T X 16' (2' horns) Mod. 725012, 240v/3ph, new top front bearings on rocker arms, no back gauge, s/n 169 (1980), bottom die holder, 14 in. throat depth from center of bed plate to side fram opening.

CNC TURRET PUNCH – Amada Aries 245, 20-ton, 19 turret stations, 460v/3ph, s/n 24501Q14 (1994)

DUPLICATOR PUNCH – Whitney Mod. 630, 440v/3ph, s/n C2040089
BURNING TABLE - Aronson IK-1500G burn table W/ HL-82 Co-ord drive tracing system Type 1864C82G01, 4 burning torches, 6' X 11" table, 480v/3ph

BANDSAW – Talon V-14 metal cutting bandsaw, 480v/3ph

BANDSAW – DoAll C-916A horizontal metal cutting bandsaw, 159" band length, 230v/3ph

WELDERS – Lincoln Precision Tig 375 TIG Welder Ready-Pak, Processes Stick & TIG: Lincoln Precision TIG 275 TIG Welder Ready-Pak, Processes Stick & TIG - See Bidspotter for all -
PICKUP - 2010 Ford Explorer Super Trac Adrenalin - 4.6L V-8, AWD, Auto, Sunroof, Tow pkg., recent new brakes & rear & right front wheel bearings, 70% rubber, Nav., Backup camera, leather interior, Bluetooth, Tonneau cover, no accidents, 273K km (Joiner Sales Corp company vehicle)
FLATDECK TRUCK - 1993 INTERNATIONAL 4700 4X2 5 TON 20' FLATDECK W/ DTA 360 HT190 6 CYL. DIESEL ENGINE, 6+1 - 7 SPEED SPLICER TRANS., DRIVE TRAIN FRONT 10,000#, REAR 19,000#, 53,519KM .VIN# IHTSCPHP1P519454, TRUCK RUNS WELL WITH FULL ANNUAL MAINTENANCE (DOES NOT PASS CVI DUE TO RUSTED FRAME)
STEEL INVENTORY - VIEW LOT CONTENTS EXCEL LISTING HERE