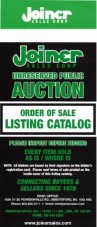 Click to open Brochure Lot Listing Catalogue
NOVA STAINLESS PRODUCTS - SURPLUS EQUIPMENT ONLINE AUCTION
DATE & TIME
Wed., Feb. 17, 2021 - First lot begins closing @ 10:00 am
PREVIEW DATE & TIME
Tues., Feb. 16, 2021 - 9:00 am - 4:00 pm
ADDRESS
19248 94 Ave Unit D, Surrey, BC V4N 4E3
Stainless steel fabricating and machining equipment.
ON-LINE WEBCAST AUCTION!
Surplus Equipment Due To Realignment Of Canadian Operations
CLICK BELOW JOINER LOGO TO GO TO BIDSPOTTER – DAY 1


BID LIVE ON-LINE WITH BIDSPOTTER
CLICK ABOVE JoinerCONNECT LOGO TO REGISTER
SEE COMPLETE DESCRIPTIONS AND PHOTOS ON BIDSPOTTER SOON!
COVID 19: Joiner Sales Corp follows and implements all government guidelines required in each jurisdiction of the sales that we conduct. BC mandates all persons must wear masks in public places of business and applies to all employees, customers, visitors, delivery personnel and contractors. In addition, all persons must maintain a 2 meter physical distancing when on premises. Protocols will also be posted, required and sanitising chemicals will be available at the sale site to ensure convenience and compliance for the safety of both you our customer and our employees. Your safety and ours is paramount.
EQUIPMENT MOVERS


Chris Hollaar @ 604-556-6730
chris_hollaar@hotmail.com
*****************************
Rolston Crane & Freight Ltd
(604) 468-9920

*****************************
KAMATT VENTURES
Mike Lloyd
604-866-9170
kamatt@shaw.ca

Terms and Conditions
An 18% Buyer's Premium applies on all purchases. On the day following the auction all purchases must be paid in full by CASH, DEBIT, CERTIFIED CHEQUE, BANK WIRE TRANSFER (Credit cards [Visa, M/C] accepted on purchases not exceeding $2000 on entire purchase).
Applicable buyers premium and 5% GST & 7% PST (BC mfrs. exempt PST with PST#) will be added to the bid price on all items.
REMOVAL TIMES Feb. 17th to 22nd. – 8am to 5pm daily except Sunday - buyers please contact Kevin Joiner @ 604-308-8040 to advise of your timing.
FEATURING

PRESS BRAKES
Wysong hydraulic, model RT4 175x146, 175 ton x 12 ' 3 ½", Stroke 8 ", Die space 20", 480v/3ph, s/n RT18-106-A, power back gauge
All Steel hydraulic model 120 12, 120 ton x 12 ft., 220v/3ph, s/n Y.2205
Chicago 6' X 25 ton, mechanical s/n L- 15254
Many assorted brake dies
SHEARS
Haco hydraulic Type HSL 3013, 13 x 3055 ( ½" x 10'), 575v/3ph, s/n 68210, power back gauge, spare blades
Danish 10' X 14 ga. SS / 1/8" mild steel, power back gauge, 600V/3ph hydraulic, s/n 1616/67

FABRICATORS
Strippit Super 30-40 HD, 40 ton hyd. punch & notcher, Capacity dia. 5 x 12 ga., 1 ¼ x 3/8; Max sheet size 30 x 60; X - axis travel 60; Y – axis travel 30; Throat depth 30; Table size 48 x 72; Max. thickness 3/8; Ram stroke ½; Speeds 120 SPM; Table adjustment 2 ¼, 480v/3ph, s/n 17462680 (Tooling sold separate)

Strippit SPM500 turret punch, 10 stn., 20 ton, Sheet size 19.625 x 39.37, Max. sheet thickness .250, Max hole dia. 3.5, Turret rotation speed 6 RPM, 230/460v/3ph, s/n 010788043J (Tooling sold separate)

LATHE
Chinhung Advance Mod CHD-560 X 2300 (22 X 90), 3 & 4 jaw chucks, steady rest, DRO, 2002, s/n CHO3810, 220v/3ph

MILLING MACHINES
Modern Mod. 3VM Uni Mill, 10 X 50 table, Table T-Slots – 3" x 5/8", Spindle quill travel 5", Spindle taper R-8, Spindle motor 3hp/220v/3ph, Power travels, Acu-Rite XZ DRO

Rambaudi Versamill, s/n 118057, 98 1/2" X 27 1/2" table, Fidia C1 contols, 460V/3ph
(Off site) @ 11720 Stewart Crescent Unit 8, Maple Ridge, BC
Contact Chase @ 778-227-3554 for viewing appointment
SURFACE GRINDER
K.O. Lee surface grinder, magnetic chuck, 230/460V/3PH

PUNCH PRESSES
Rousselle Mod 3, 25 ton, 25" x 48" table, Stroke 2, Shut height 10 ¾, adjustment 2, Strokes/min 135 s/n 20932

Taylor & Challen 60 ton punch press, Mod B 3 ½, 60 ton, 30 X 32 bolster plate, 5hp/400v/3ph, s/n 608
IRONWORKER
Kingsland Mod. J21, mechanical, 5" x 5" X 1/2", 480v/3ph
VERTICAL ANGLE ROLLS
Bufallo vertical angle rolls Mod. AO, 220/440v/3ph

AUTOMOBILES
2014 VW CC Highline - PRE-SOLD - REMOVED FROM AUCTION!
2003 Ford Windstar minivan, 7 passenger, gas, auto, AC, PW, rear wiper, PL, DVD player, 3.8L 6 cyl, FWD, 3rd row seat folds down, approx. 180k km
FORKLIFTS
TCM Mod. FD70Z7, 15,500 lb. cap., diesel, side shift, air tires
Nissan Mod. CPF02A25V, 5000 lb. cap., 218" lift, side shift, propane, cushion rubber, hour meter reads 3407 hrs., s/n 023695
Hyster electric Mod. E503, 5000 lb., 48v, 150 in. lift, Meter reads 4640 hrs., w/ Hobart charger 220/240/480/3ph/48 volt

COLD SAW
Eisele VMS .1.S cold saw, 220v 3 ph

WELDING POSITIONER
P & H 9000 lb. cap., 41" dia. Table with T slots, 550v/3ph

GEAR HEAD DRILL PRESS
Strands Type S 30, 230v/3ph/1700-3400 rpm, s/n 68034

MISC. EQUIPMENT (More details and photos to come)

Simplex HD porta power system with HD rams

Tecna Spot Welder – 46 KVA, 220/460v/3ph, 18" throat

Millermatic 251 Mig wirefeed welder

Canox Migmatic 200 wire feed welder

Esab 453cv mig digital welder w/ feeder

Esab Migmaster 250 mig welder

Bluerock Mod CG-28 track cutter

Maxwood 12" bench top disc sander
(2) Floor levelling frames, approx. 4' x 8'

Benchtop belt sander

2 chop c/o saws

Shop dust collector vacuum

Machine vises

Crane lifting chains

Hyd. bottle jacks

Bench grinder on stand

INVENTORY
Assorted mild steel angle, channels etc., wall mount stock rack, asst'd. steel sheet stock etc.